A father, whose three daughters were sexually abused by the former USA Gymnastics doctor Larry Nassar lost his calm during a court hearing and lunged at the accused, bringing the sentencing to an abrupt halt in Michigan on Friday.
The enraged man had to be pinned to the ground by guards to control his fury-filled act. The environment turned chaotic post the victim statement reading by sisters Lauren and Madison Margraves against Nassar, who will hear his final sentence on Monday.
Larry has been booked on the charges of child sex abuse and pornography. The 54-year-old has been accused of sexual misconduct by over 265 female athletes during the 2-decade time span. Dozens of women who suffered under the disguise of medical treatment confronted the disgraced doctor.
Randall Margraves, the man who hurled himself towards Nassar had earlier requested the judge present in the courtroom to "grant me (him) five minutes in a locked room with this demon." People's chuckles soon followed the comment, unaware of the turmoil brewing inside the distraught father.
Margraves lunged towards the defence table but were soon tackled by three sheriff's deputies as he kept shouting, "I want that son of a bitch!" He soon realised his mistake and apologised stating, "I'm embarrassed. I'm not here to upstage my daughters."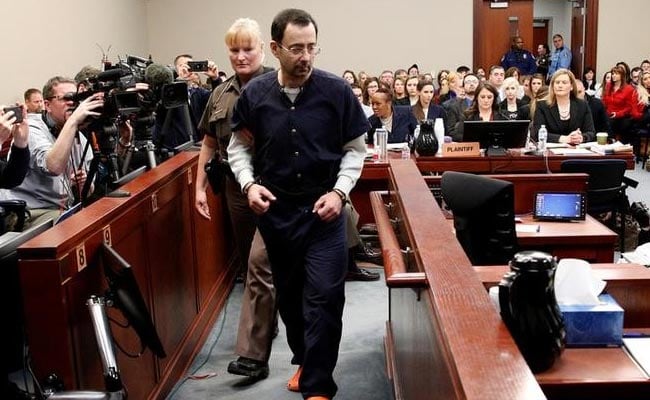 Following the incident, Judge Janice Cunningham appealed everyone in presence to maintain their composure. During an earlier hearing after Nassar pleaded guilty to molesting young women under the guise of medical treatment, he was sentenced to up to 175 years in prison.
Condemning the act of violence, Judge Cunningham stated, "We cannot react by using physical violence. Margraves understood what the authority was preaching and thanked the law for leaving him without punishment. "I thank Judge Cunningham and all the court system for their leniency on me," he said.
Extremely hurt of how situations turned, Randall Margraves regretted "failing" his daughters, whom he said, "I delivered unintentionally my three daughters to a demon who had his own twisted and sick agenda for his own demented desires."