Australian Men Hockey team emerged victorious in the final against India defeating them 3-1 in a penalty shootout, on Sunday clinched the Hockey Champions Trophy held at Breda, Netherlands. India had to satisfy themselves with the Silver medal.
India had managed to play a 1-1 draw with the Netherlands in their final round-robin game on Saturday to set-up the final encounter with Australia.
Australia lifted the Champions Trophy for the 15th time. It was for the second time both teams had played in final against each other, the first meeting was at 2016 final.
The final was a repeat of last edition's clash where Australia had beaten India by the same margin in the penalty shootout after the regulation period score of 0-0.
After the full-time (60 minutes) the score between India and Australia ended up at 1-1 following which the winner of the match was to be decided through penalty shootout.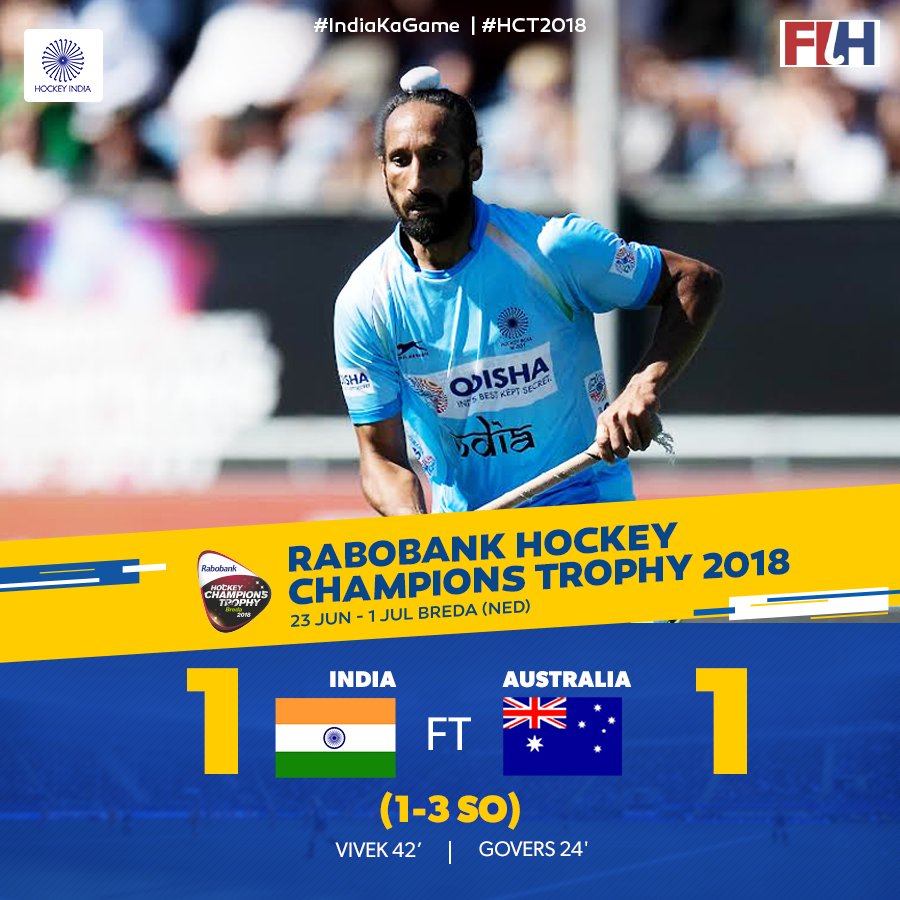 Australia started off the penalty shootout, Aran Zalewski scored the first penalty shot and opened the account for Australia 1-0.
For India, Sardar Singh took the 1st penalty shot and he missed that, India's score remained 0-0. Australia's Daniel Beale took the 2nd penalty shot and he scored as well. Australia got a 2-0 lead. Lalit came in to take India's 2nd penalty shot and he misses too. India still had 0 in their account.
A brilliant save by Sreejesh blocked the next penalty shot from Craig, keeping Indian hopes alive. Finally, Manpreet who came in to take the penalty shot scored for India taking the score to 2-1. Indian hopes were crushed by Edward who came in and scored penalty shot, taking the Aussies to the line with the score of 3-1.