New satellite images taken 5 months after the peaceful disengagement of Chinese and Indian troops from the Doklam plateau have revealed that a massive, full-fledged Chinese military complex is being built within Doklam, only 81 metres away from Indian posts.
The new 'clearest-ever' satellite images depict several military structures along the East-West road in the disputed Doklam region, which, serving as the trijunction between India, China and Bhutan is contested by the latter two nations.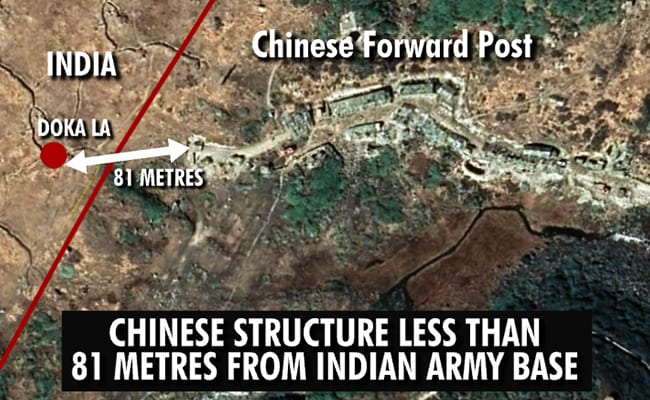 Trenches are clearly visible, as is infrastructure, and two helipads, apart from what appear to be gun emplacements signalling a possibility of artillery guns being brought in. Previous Google Earth images taken in March 2005 and May 2011 clearly depict the changes that have come about in the area.
A standoff between the Indian and Chinese troops took place when India protested to China's road building activities in the trijunction Doklam area, resulting in both forces standing eye-to-eye for 73 days before a peaceful disengagement of troops in August 2017.
In October 2017, the Ministry of External Affairs had stated that there were no new developments in Doklam after the disengagement of troops.
"We have seen recent reports on Doklam. There are no new developments at the face-off site and its vicinity since the August 28 disengagement. The status quo prevails in this area. Any suggestion to the contrary is incorrect," an MEA statement issued on October 7, 2017 said.
However, satellite images from December indicate that the Chinese never stopped their infrastructure buildup in the area.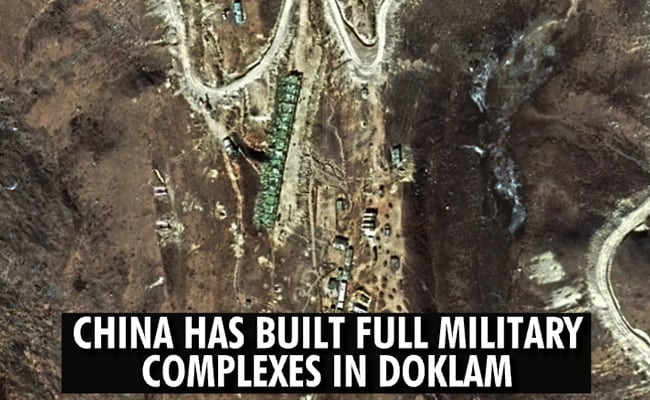 "They have built infrastructure for it in north Doklam (separated from south Doklam by the Torsa Nala rivulet). But our troops, atop the watershed that dominates Doklam, are much better placed in terms of terrain. We are in a wait-and-watch mode, prepared for any eventuality," an official said.
Army Chief General Bipin Rawat, during an event on Wednesday, admitted that China had carried out some infrastructure development near Doklam, but termed it as temporary.
"As far as Doklam is concerned PLA soldiers are there in a part of the area, although not in numbers that we saw them in initially. They have carried out some infrastructure development which is mostly temporary in nature," the Army Chief said.
"While troops (PLA) may have returned & infrastructure remains, it is anybody's guess whether they would come back there or is it because of the winters that they could not take their equipment, but we are also there, so in case they come, we will face them," General Rawat added.
The Congress party slammed the Prime Minister Narendra Modi government for downplaying the 'situation' in Doklam.
"While China is ready for an extended occupation, the Modi Govt has been busy lying to the people of India about the true situation in Doklam," tweeted the Congress party from its official handle.
Congress President Rahul Gandhi condemned BJP for ignoring issues concerning 'national security', citing Doklam as well as the Pakistan Prime Minister Shahid Khaqan Abbasi's statements on terrorist Hafiz Saeed that there was no case against him.
"China fully occupied North Doklam & it is massive, Pak PM says no case against Hafiz saeed! But BJP spokespersons on TV keep saying everything is fine. Even Media is not debating such issues.Our National security is at stake but 56" busy wd road shows! Sick !" Rahul Gandhi tweeted.