The location of absconding jeweller Nirav Modi, who left India before his Rs 12,700 crore fraud of Punjab National Bank (PNB) came to light, has been traced to Hong Kong, after reports that he was in New York.
The Ministry of External Affairs (MEA) has submitted a request to the Hong Kong authorities for the provisional arrest of Nirav Modi, the government said on Thursday. A provisional arrest is filed before a formal extradition request.
"The Ministry has sought the provisional arrest of Nirav Deepak Modi by the Government of the Hong Kong Special Administrative Region, People's Republic of China, for which a request has been submitted to them on March 23, 2018," V K Singh, the Minister of State in the Ministry of External Affairs, said in the Rajya Sabha.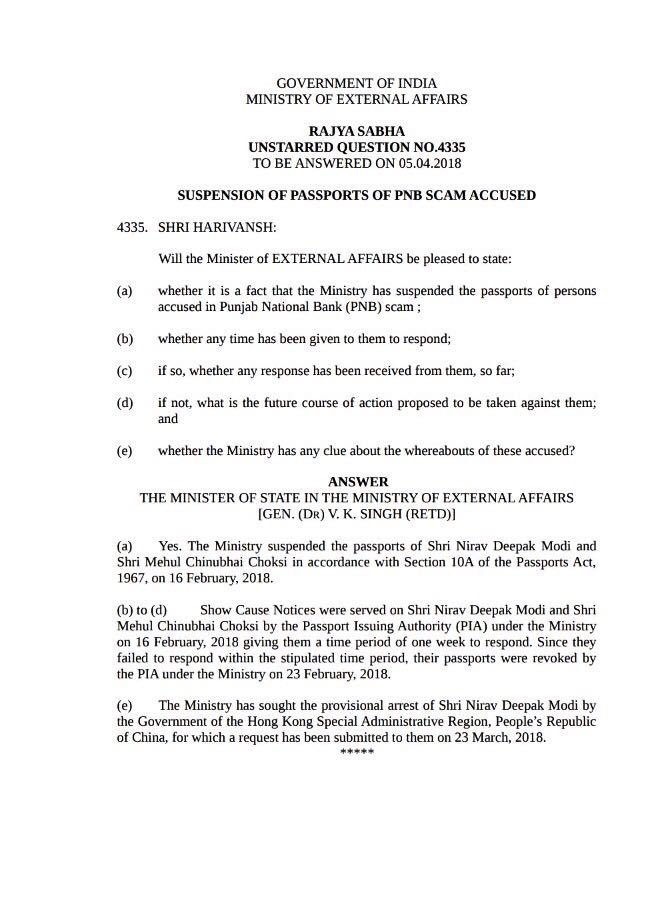 Singh's response came after a question in the upper House asking about the whereabouts of Nirav Modi and his business partner Mehul Choksi.
Although the MEA suspended the passports of Modi and Choksi on February 23 after the scam came to light, Modi and Choksi reportedly fled the country in January itself.
ALSO READ: PNB Alleges Nirav Modi Scam Involved Rs 1,300 Crore More, Total Fraud Amount Rs 12,700 Crore
Modi and Choksi were issued show cause notices by the MEA on February 16, giving them a week to respond.
"Since they failed to respond within the stipulated time period, their passports were revoked on February 23, 2018," the MEA said.
The multi-crore scam along with the accused fleeing before prosecution resulted in backlash on the government, as well as protests in Parliament.