Actress Aishwarya Rai Bachchan has been honoured with the Woman of Substance title in an event held by the bunt community on Sunday at Bunts Sangha cultural centre, Pune.
Aishwarya belongs to the Bunt Community and the actress was present at the event to receive the award and also inaugurated Buntera Bhavana.
The Beauty Queen has been the epitome of grace and elegance for quite a long time now. The global icon has impressed one and all with the way she has carried herself throughout these years giving a lot of great performances.
ALSO READ: Strip Protest Against Casting Couch In Telugu Cinema Renders Sri Reddy Homeless
The actress looked radiant in a stunning fuchsia and mauve ethnic ensemble as she attended the event. Check out her beautiful pictures from the event.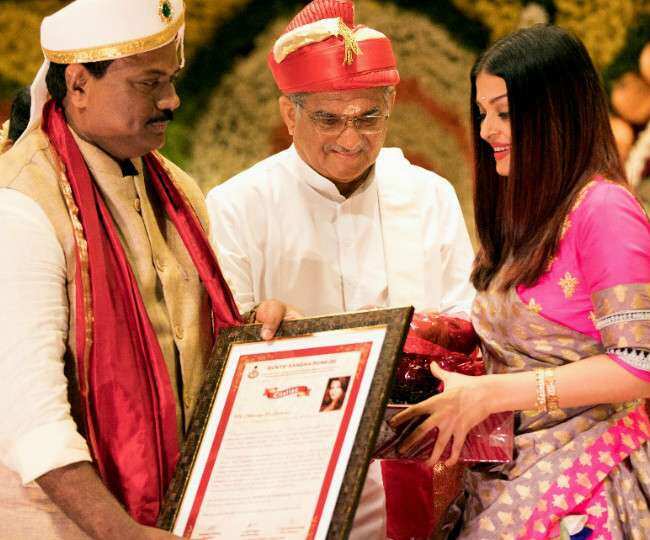 Aishwarya is a Padma Shri awardee and a Global Icon. The actress has established herself as one of the most popular and influential celebrities in India.
Aishwarya is associated with various charities like Smile Train Foundation, UNAIDS, CPAA, Polio, Eye Donation etc.
While the beauty queen has been the first one to receive numerous awards in her life and she strongly believes that she has made not only her community but the entire nation proud.
Aishwarya is not just a superb actress but a hands-on mother as well. The actress takes pride in saying that she loves spending time with her daughter, Aaradhya Bachchan and bringing her up as a normal child, protecting her from all the media glare.
Aishwarya is also known for being a philanthropist and she has been involved with various causes to spread awareness and help the ones in need.