Union Finance Minister Arun Jaitley on Thursday presented the fifth and last Budget of the current NDA government before the 2019 general elections. The Budget to be presented is also the first Budget after the implementation of the Goods and Services Tax (GST) in July 2017.
"Indian economy has performed very well since our Govt took over in May 2014, It is now the seventh largest in the world," said Jaitley.
"Indian economy is on course to achieve high growth of 8 %. Economy to grow at 7.2-7.5% in second half of 2018-19," he added.
"Budget 2018 will work with states to provide more resources to improve quality of education," said the Finance Minister.
"From ease of doing business, our government has moved to ease of living for the poor and middle class," Jaitley said.
"The focus is on low-cost farming, higher MSP. Emphasis is on generating farm and non-farm employment for farmers," he said.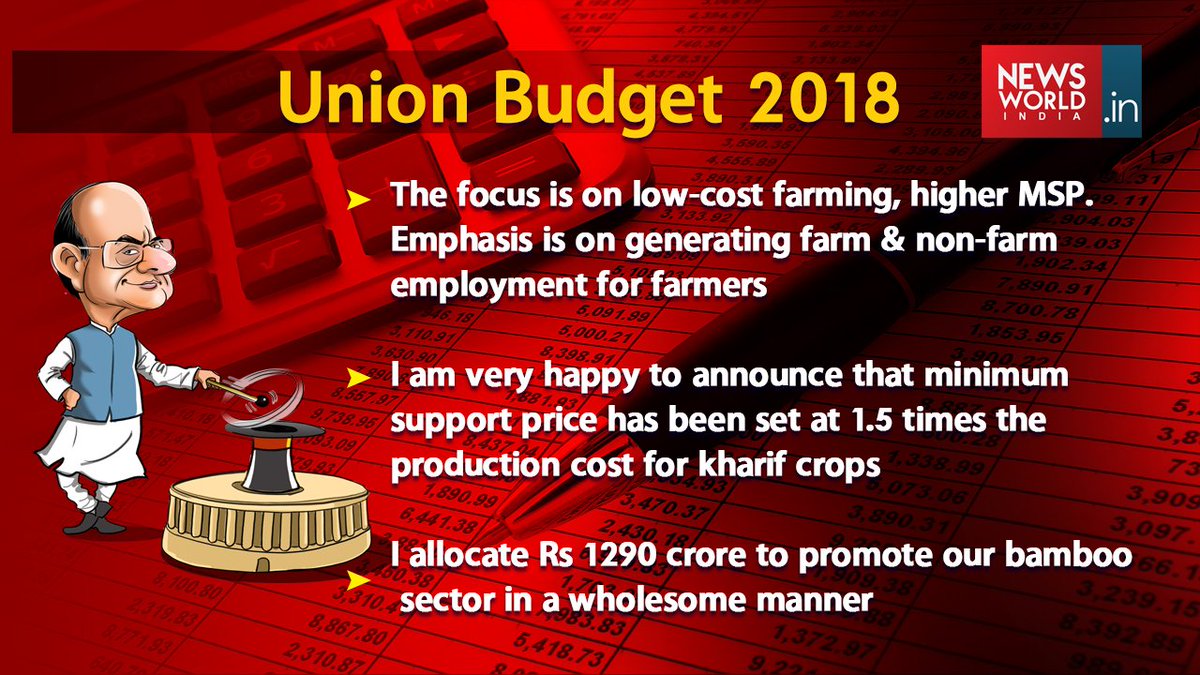 "I am very happy to announce that minimum support price has been set at 1.5 times the production cost for kharif crops," he said.
"Agri-Market Development Fund with a corpus of 2000 crore to be set up for developing agricultural markets," said FM Jaitley.
"India's Direct Benefit Transfer scheme is a global success story. Government proposes to launch 'Operation Greens' on the lines of Operation Flood'" he said.
"Propose launch of a restructure national bamboo mission with Rs 1200 crore,10,000 crore has been allocated to fisheries and animal husbandry sector," said Jaitley.
"Proposed to raise institutional credit for agriculture to Rs 11 Lakh Crore for 2018-19," he said.
"Air Pollution in Delhi NCR is a cause for concern, special scheme will be implemented to support Govts of Haryana, Punjab,UP and Delhi NCT to address it and subsidize machinery for management of crop residue," he said.
"Govt proposes to increase the target of providing free LPG connections to 8 crore to poor women," Jaitley said.
"Govt to increase digital intensity in education. Technology to be the biggest driver in improving quality of education," he said.
"We have constructed 6 crore toilets under Swachh Bharat Mission, our aim is to build 2 crore more toilets," he added.
"Govt to launch 'Revitalising Infrastructure and Systems in Education by 2022. By 2022, every block with more than 50% ST population and at least 20,000 tribal people will have 'Ekalavya' school at par with Navodaya Vidayalas. Govt to set up two new full-fledged Schools of Planning and Architecture," said FM Arun Jaitley.
"We have allocated 1200 crore allocated for health wellness centres Rs 5 lakh per family per year for 10 crore poor families. The world's largest government-funded program," he said.
"24 new govt medical colleges and hospitals to be set up by upgrading existing district hospitals," he said.
"Technology will be the biggest driver in improving quality of education. We propose to increase the digital intensity in education and move gradually from blackboard to digital board," Jaitley said.
"115 aspiration districts identified taking various indices of development into consideration, quality of life to be improved in these districts," he said.
"Announce allocation of Rs. 56,619 crore for SC welfare and Rs. 39,135 crore for ST welfare," FM Jaitley said.
"Contribution of 8.33% to EPF for new employees by the govt for three years and 12% govt contribution to EPF in sectors employing large number of people," he said.
"Cleaning of Ganga is of national importance, have sanctioned 187 projects under NAMAMI Ganga scheme," he said.
"Have proposed construction of tunnel under the Se-La pass in Arunachal Pradesh," he said.
"Proposal to develop 10 prominent tourist destinations as Iconic tourism destinations," Arun Jaitley said.
"AMRUT program to focus on water supply to all households in 500 cities. Water supply contracts for 494 projects worth 19,428 core awarded," he said.
"12,000 wagons, 5160 coaches and 700 locomotives being procured. There is significant achievements of physical targets by Railways. All railways stations with more than 25,000 footfall to have escalators. All railways stations and trains to have Wi-Fi and CCTVs progressively," said Jaitley.
"Foundation stone of the bullet train was laid in September 2017. An institute is coming up in Vadodara to train the manpower required for the high speed railway projects," he said.
"Redevelopment of 600 major railway stations has been taken up; Mumbai transport system is being expanded; suburban network of 160 km planned for Bengaluru. Focus will be on safety, maintenance of railway tracks, increase in use of technology and fog safety devices," Jaitley said.
"UDAN (Ude Desh ka Aam naagrik) scheme will connect 56 unserved airports and 31 unserved helipads. Airports Authority of India now has 124 airports, this will be expanded by 5 times. Aim of 1 billion trips a year," he said.
"1 lakh Gram Panchayats connected to optic fibre completed; 5 lakh Wi-Fi spots to be created in rural areas," he said.
"Niti Aayog to establish a national programme to direct efforts towards Artificial Intelligence, including research and development of its applications," Jaitley said.
"Will take all steps to eliminate the use of Crypto-Currencies, will encourage Blockchain technology in payment systems," said the Finance Minister.
"Govt has identified 372 specific business reform actions to improve ease of doing business; Evaluation of performance under this programme to be based on user feedback," he said.
"Emoluments of the President to be revised to Rs 5 lakh per month and emoluments of the Vice-president to be revised to Rs 4 lakh per month," Jaitley said.
"Projected fiscal deficit for 2018-19 is 3.3% of GDP," he said.
"The Govt is proposing changes in refixing salaries of Members of Parliament. Law will provide automatic revision of emoluments of the MPs every 5 years indexed to inflation," he said.
"Gold monetisation scheme being revamped so that people can open gold deposit accounts in a hassle-free manner," Jaitley added.
"Tax payer base has risen from 6.47 crore in 2014-15 to 8.27 crore in 2016-17. More payers joining tax net but turnover not encouraging," he said.
"Demonetisation was received by honest tax-payers as 'Imaandari ka Utsav'," he said.
"Propose 100% tax rebate for farmer producer companies having a turnover of Rs. 100 crore," said Jaitley.
"Govt has made many positive changes in the personal income tax rates applicable to individuals in the last three years therefore I do not wish to make any changes to this," he said.
"Proposed two defence industrial corridors in the country to promote domestic production in both public and private sectors," said Arun Jaitley.
"Propose to extend 25% corporate tax rate to companies with revenue up to Rs 250 crore," he said.
"For senior citizens, exemption of interest income on bank deposits raised to Rs 50,000," he said.
"Standard deduction of Rs 40,000 for salaried employees in lieu of transport and medical expenses," FM Jaitley said.
Earlier, the Budget would be typically presented at the end of February, but Jaitley last year moved up the date for presentation of the Budget to February 1 so that the proposals can be implemented by the beginning of the new financial year on April 1.