The 'Oh My God' hitmaker Umesh Shukla might have been able to bring together two legends but his purpose of creating an epic drama remained unfulfilled. Based on Saumya Joshi's well-known Gujarati play '102 Not Out' explores an unorthodox bond shared by a father-son duo.
Despite the amusing track, the film is entrapped in the shaky storyline which somewhat drowned the boat for two legends who tried to give the film their all. While Amitabh Bachchan plays the 102-year-old Dattatraya Vakharia with the attitude of a young lad, his 75-year-old son is way different.
Too stiff in his old-school ways, Rishi Kapoor's Babulal Vakharia is a practical person who has accepted his old age unlike his father, who is way more vibrant and enthusiastic about life. Terming his son as boring and destructive in approach, Dattatraya decides to send his son to old age home.
With the aim of ditching his father's decision of sending him away, Babulal agrees to fulfil some of his wishes. In his mission, Dheeru (Jimit Trivedi) who works at a nearby general store helps him. Amidst the journey, a spiral of refreshing and extremely pleasing emotions are unfolded.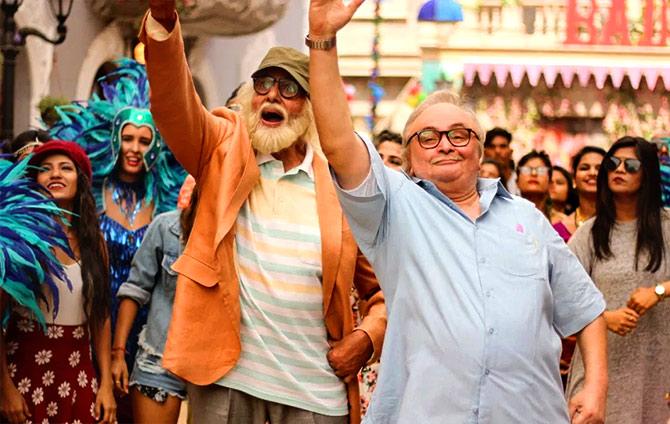 Rishi Kapoor's transformation from 'thakela pakela insaan', as pronounced by Dattatraya, to a frolic personality is infectious. Several funny and lively sequences make the film bearable including the one where Dattatraya forces Babu to dance with him to an old classic as they convey apprehensive emotions.
Nonetheless, 102 Not Out feels one-dimensional as the director tries way too hard to make it interesting. The film lacks dynamics, given that the father-son duo is cooped up in their bungalow making the drama static. It is sweet film indeed but full of life.